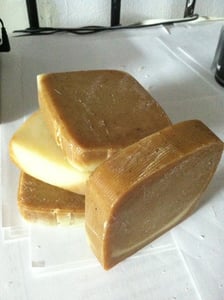 $

6.95
All soaps are handmade and include only the finest oils. Shea Butter, Coconut oil, palm oil, Olive oil, and apricot oil. And, we would never forget Vitamin E, Kaolin clay and food grade turmeric.
Some of the benefits of Turmeric Natural Soap are; Skin Whitening, Acne Natural Treatment, Protects skin from acne & rash, Gently exfoliate excess skin, Stimulates blood circulation, Invigorates the skin to create a healthy glow, Acts as a natural anti-bacterial agent, Helps prevent acne and skin rashes, Vitamin E provides moisture and revitalizes your skin, Has many antibacterial, antimicrobial and antioxidant benefits, Treat a variety of skin conditions gently,Treat and prevent dryness, Relieve skin conditions such as eczema and psoriasis, Excellent for uneven skin pigmentation, Reducing facial hair growth
Our products are NEVER tested on animals our friends and family are happy to try our first time batched soaps.
Weight 5 to 6oz